A complete and centralized infotainment & management vehicle functionalities system made by ACTIA

This sophisticated platform will be a real differentiator for any manufacturer and operator, enabling driver and passenger satisfaction by ensuring an optimal user experience.

"Vehicle connectivity is the key to mobility issues."
A 100% made in Europe solution at the core of the driver dashboard
ACTIA launches its
ACT

iVi

solution!
Linked directly to a screen, this
innovative & intelligent ECU
is designed to
centralize
and manage all the vehicles functions dedicated to bus and coach. This is the perfect gateway between the driver and its vehicle, including the mirroring of its mobile.
Acting as a vehicle control unit and Integrated within the driver's dashboard, ACTiVi is an
Android open platform
that will interact with other vehicle management systems creating a
connected & digital cockpit
.
Enabling control of both driver and passenger area functionality, ACTiVi will provide the driver with the ability to monitor the vehicle's comfort functions, visualize and manage all camera systems and will also include a diagnostic display terminal.
All these features will be
configurable from a single screen
located in the driver dashboard.
ACTiVi a solution integrated in the ACTIA
cybersecurity
roadmap, to fulfil regulations (ISO 21434) for passenger and driver safety.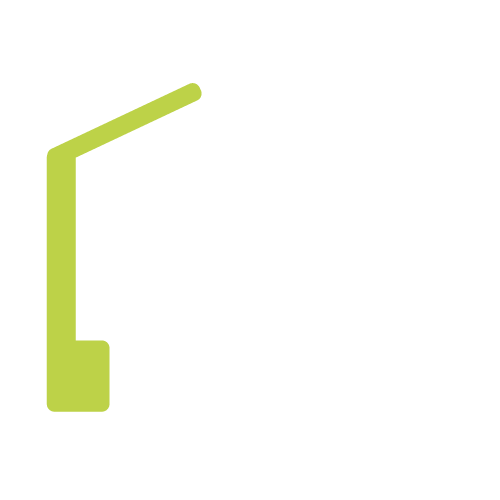 Light entry version : BUS & CITY-BUS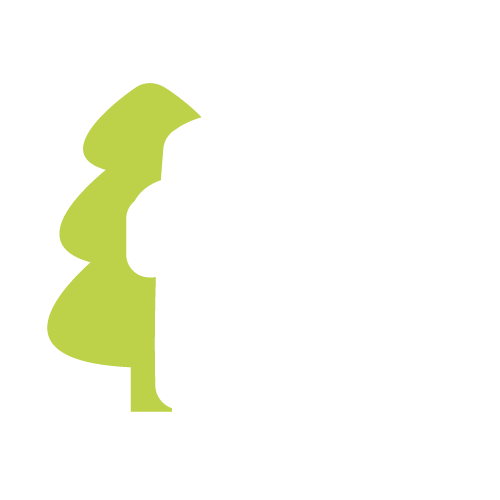 High entry version : COACH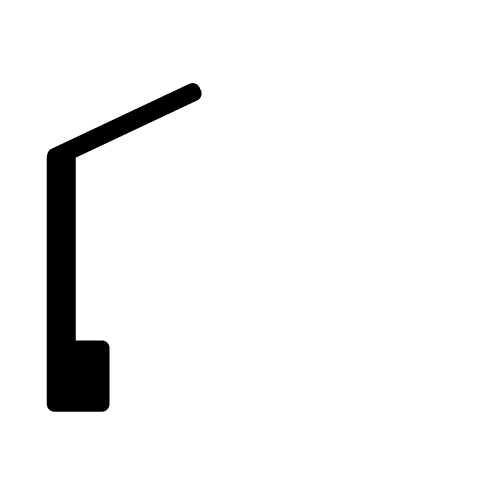 For city and intercity buses, ACTiVi-L makes the daily work of bus drivers daily work more ergonomic, comfortable, safer, and makes it easier for the driver to manage the journey and welcome passengers. This light version is focused on vehicle functionalities & passenger information's. In addition, it could be the perfect terminal of APP managed by at third party device (Telematic Control Unit for instance).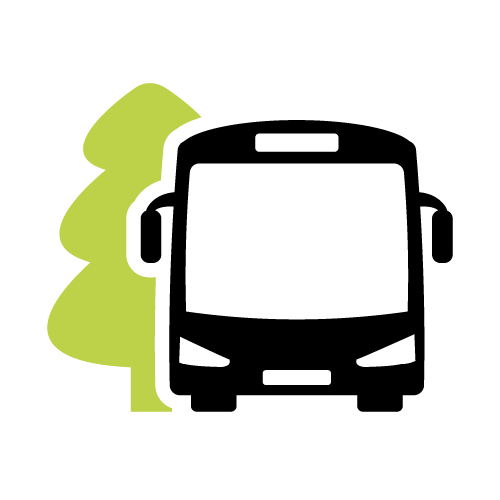 For travel coaches long-distance journeys ACTiVi-H focuses on on-board entertainment, management of the vehicle's functionality and comfort of its passengers. This High version has additional audio/video inputs as well for microphone and screen. ACTiVi-H will offer the best customer experience possible.
A solution adapted to its customers markets
both can be INTEGRATED into any dashboard and INTERFACED with any other third-party infotainment system already installed in the vehicles.
To push further the modularity and adaptability of their solutions, ACTIA gives the possibility to
customize
and configure the ACTiVi
software structure
.
With two different levels of
software customisation
, ACTIA will adapt to its customers needs and offer them a
tailor-made
solution which will meet their expectations and requirements in terms of
interface and functionalities
.
ACTIA assists its customers on the complex common hardware elements allowing an easy implementation of the solution.
"ACTiVi for any client and any configuration"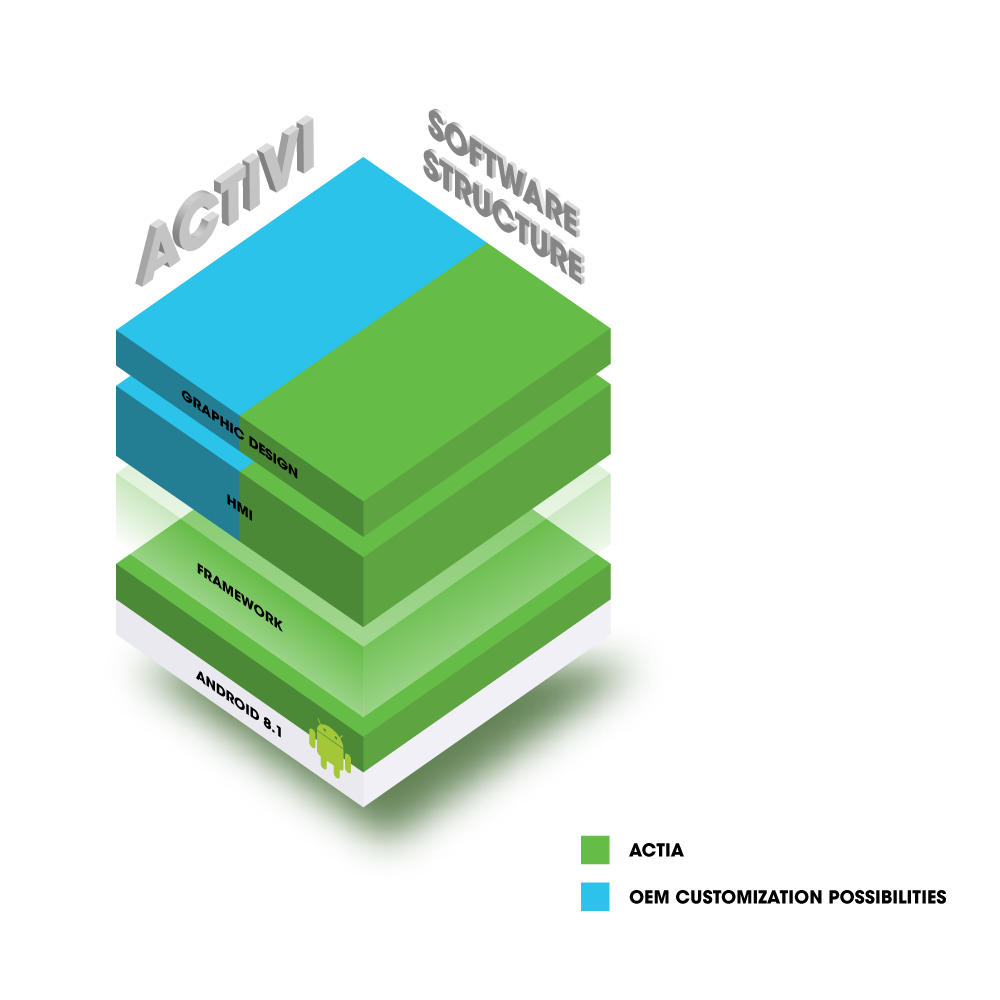 POSSIBILITIES FOR OEM :
Branding customization (colors + logo customization)

Graphic design customisation (icons, buttons positioning, etc…)
POSSIBILITIES FOR OEM :
Branding customization (colors + logo customization)

Graphic design customisation (icons, buttons positioning, etc…)

Full MMI Customisation (way of operation)

Functionalities customization
Friendly management of common Android elements
All the essential functionalities in a few clicks
Equipped with the latest multimedia features, ACTiVi L & H supporting WIFI, Bluetooth, USB, GNSS, GPS, DAB connections will enable a tailor-made system for the driver and the hostess.

From the management of audio & video sources to the visualisation of cameras on the control screen, ACTiVi is a solution made for any type of configuration!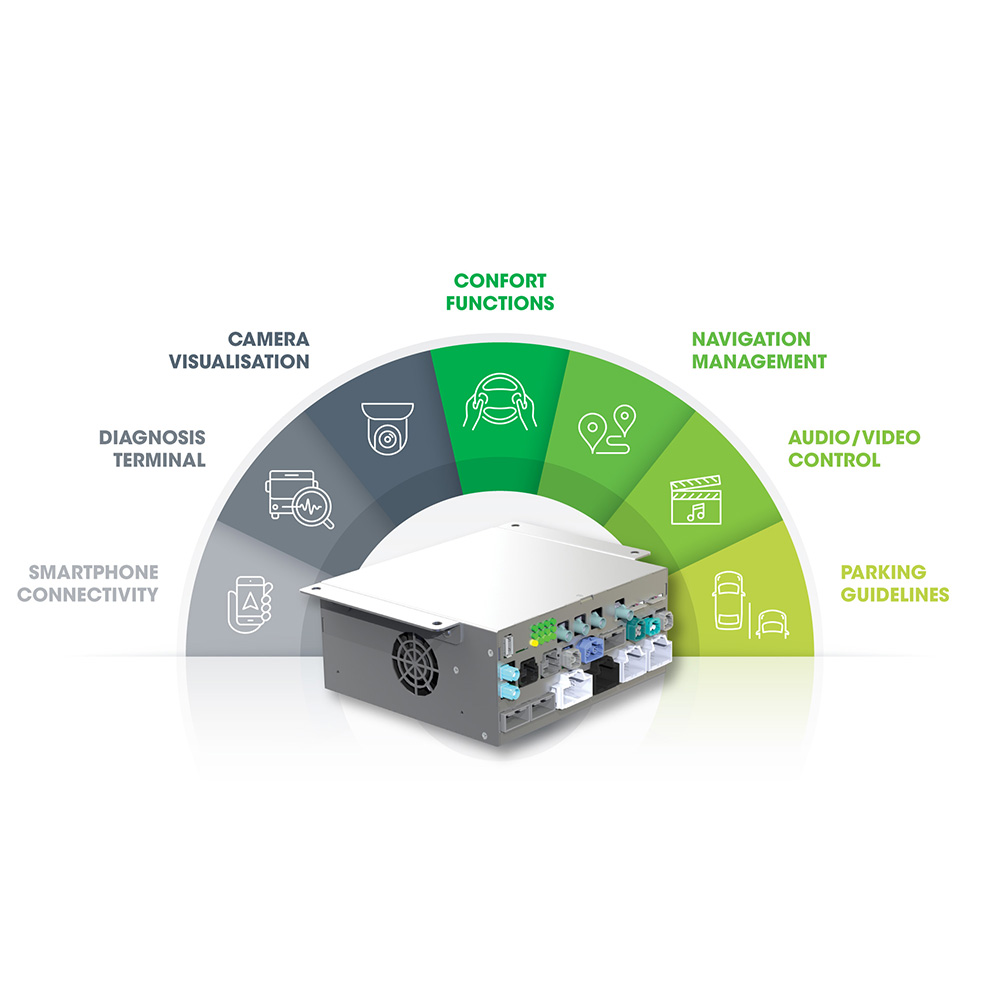 Versatility & modularity :
a solution interfaceable with any kind of system
A scalable and modulable solution.
It can be adapted to any vehicle architecture requirement, offering maximum flexibility and a wide range of functionalities.
Decide which one is yours!
A 100% ACTIA configuration!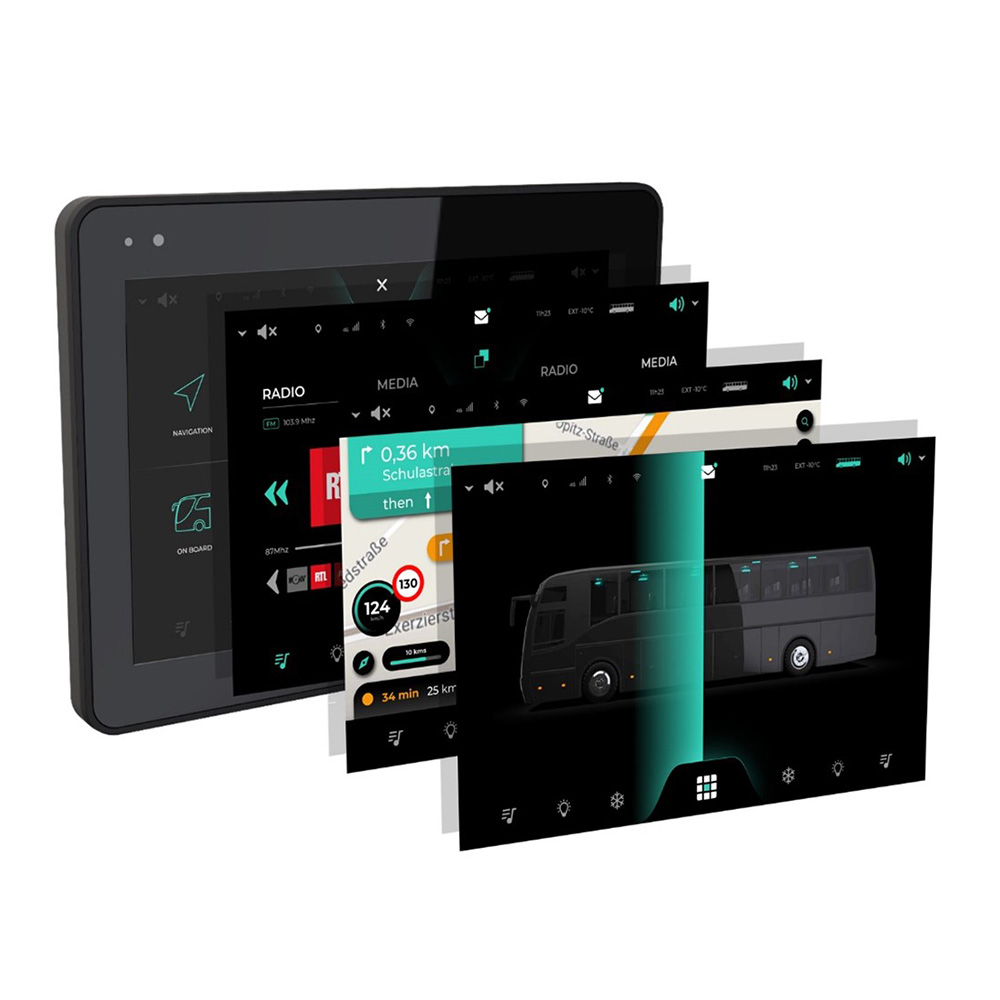 Interface the ACTiVi ECU with your existing head unit
Upgrade your existing solution with a complete infotainment solutions thanks to ACT

iVi

!
ACT

iVi

:
THE GATEWAY TO AN ACTIA DIGITAL COCKPIT
ACTIA unveils its digital cockpit: 3 distinct solutions, combined into a single one.
A digitalized driving space at your disposal:
Situated at the heart of the driver's cabin, ACTiVi will be the gateway to the connected dashboard, interacting with the other vehicle's systems.
Receiving information directly from the ACTiVi, the ACTIA Activision monitor will centralized and display all the vehicle functionalities giving you a complete freedom of management. All your functions are just a click away.
Acting as an intelligent dashboard, information such as navigation or media management will be sent from the ACTiVi to be displayed directly on MULTIC FSX, thus simplify the management of the vehicle by its driver, reduce accident risks & improve the user experience.
A complete
synergy
is created between the 3 systems, allowing the driver to configure from his Activision screen the information he wishes to display on his smart dashboard, allowing him to optimise his field of vision and benefit from optimal road comfort.
This Digital Cockpit will improve the ergonomics of the driver's seat, generate cost savings, increasing safety on board, resulting in maximum flexibility and a seamless user experience.
Manufacturers will be able to switch from an architecture were all the infotainment, connectivity & vehicle control functions were separate modules and operated individually to an architecture where all these functions are centralised in a
single control point
.
For more than 30 years of expertise ACTIA Group specializes in the design, manufacture and operation of electronics dedicated to high quality, very high performance and harsh environment applications in various automotive and telecommunications fields. Innovation and production are for us the two inseparable drivers of our business dynamics.
ACTIA's high level of expertise in the production and design of its products guarantees Automotive grade quality.
As the key to competitiveness in increasignly demanding markets, innovation mobilises signficant investments. It also drives the teams in a creative and entrepreneurial dynamic that is the hallmark of ACTIA since its creation.
In a world in constant evolution, ACTIA has developed a holistic approach that integrates cybersecurity into the life cycle of its products.
For more information, our team is at your service and will answer you as quickly as possible.